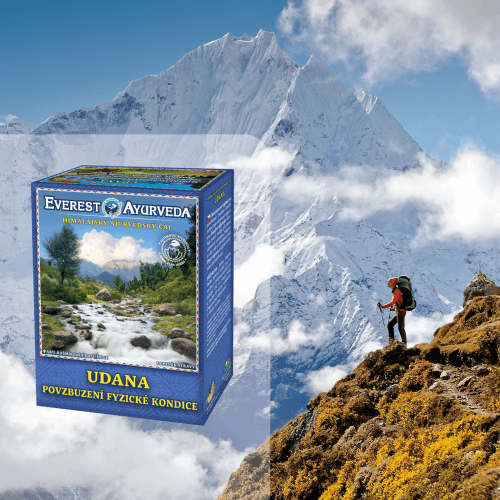 Physical weakness, easy exhaustion and general fatigue are the consequences of weakened immunity and life energy after the illness. It is necessary to return the body to good physical condition and also regenerate its defence system.
From our Ayurvedic herbal mixtures we can recommend Udana tea. The combination of herbs consists of Cinnamon (Cinnamomum zeylanicum), which restores the body's performance and strengthens the heart, Ginger (Zingiber officinale), a well-known stimulant that enhances the body during fatigue, weakness and exhaustion and supports our purposeful efforts, and Black pepper (Piper nigrum), which also has very stimulating effects, helps with digestion, warms the body and relieves the respiratory tract.
For deep regeneration of the immune system, which contributes to the restoration of physical strength, we also recommend using Rasaprash elixir with Udana tea. This elixir cleanses the lymph nodes, nourishes depleted lymphatic tissue and promotes the formation of white blood cells. Contained Amla or Amalaki (Emblica officinalis) regenerates body tissues and strengthens immunity, Cardamom (Elettaria cardamomum) restores appetite and good digestion, Long curcuma (Curcuma longa) has anti-inflammatory effects and regenerates the liver and blood circulation, Sacred basil (Ocimum adapctenctum) a herb that strengthens the body's vitality during exhaustion and Asparagus (Asparagus racemosus) that has a positive effect on good mental condition. The herbal elixir also contains clarified butter or ghee, which facilitates good absorption of the healing effects of herbs and in itself strengthens the life energy of the ojas.
We recommend the Ayurvedic combination of Udana tea with Rasaprash for: chronic fatigue, weakness, exhaustion, depression, loss of energy, regeneration and convalescence
Tea and elixir preparation: let one teaspoon of the herbal mixture (approx. 2 g) boil for 3-5 minutes or pour 250 ml of boiling water and let it infuse for 10 minutes. The elixir you can just take on a teaspoon and have a sip of warm water or tea.
Recommended dosage: 2-3 cups a day along with a teaspoon of elixir. Do not take with food, but allow at least 1 hour before or after eating.
We have selected a few testimonials for you:
Before I tried Everest Ayurveda teas, there had not been a tea that would have helped me. Your teas represent part and parcel of my home first-aid kit and I keep myself fascinated by the effects. I cannot be without UDANA after work. - Jan Mazanec, Massage Therapy, Prague
Hello we have excellent experiences with your Himalayan teas. UDANA helps us with tiredness. We used Shatawari for 8-cm cyst, it was gone after ten days. The doctor could not believe the sonography picture! - Martina, Džoudy store
Related Products