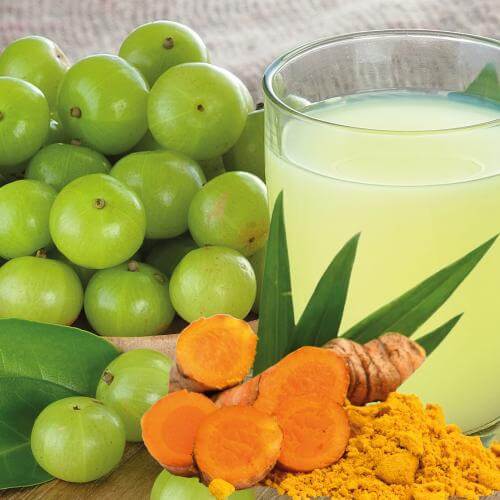 Spring detox drinks are a gentler alternative to spring fasting therapies, where they support the cleansing of the body and are used as a substitute for rich meals.
Ayurveda is a thousand-year treasury of much knowledge about the effects of various herbs and spices, which remove waste products from the body, regenerate its psychosomatic functions and bring the body into overall balance and harmony.
The most important organ associated with the circulation, and especially the filtration of blood, is our liver. After the winter, when the body naturally faces cold temperatures, richer foods and a certain stagnation caused by insufficient physical activity, it has to deal with an increased amount of accumulated toxic substances, which are insufficiently excreted from the body. The liver is also a place where mental toxins can accumulate due to prolonged mental and psychological stress. Thus, liver cleansing, along with cleansing of the intestinal tract, kidneys and lymphatic system of the spine, is a spring detoxification.
Turmeric - Cleansing of the Liver and Blood
According to Ayurvedic tradition, turmeric is considered an excellent means of cleansing the blood and supporting liver function. Its bitter and slightly astringent taste brings anti-inflammatory effects to the body and by cleansing the blood and supporting its circulation, it also contributes to the good appearance of the skin. In addition, it stimulates the digestion of proteins and prevents the formation of toxins and flatulence.
Turmeric is usually part of curry spices in vegetable dishes and from the point of view of Ayurveda it is tridoshistic - ie suitable for all three bodily constitutions of vata, pitta and kapha. Especially for pitta dosha is recommended to add turmeric, for example, to yogurt to support digestion.
Recipe for Ayurvedic Fresh Juice Amla & Turmeric
This healthy drink is a combination of fruit, vegetables and a fine powder of freshly ground amalaki and turmeric. As one of the richest sources of vitamin C and antioxidants in nature, Amla optimizes the activity of the immune system, protects cells from oxidative stress, increases iron absorption and reduces fatigue and exhaustion. It also benefits the health of the stomach and intestinal tract.
We recommend drinking fresh juice in the morning before breakfast or preparing it instead of breakfast as part of the spring cleansing. The same in the evening, either after a light dinner, which should take place by 6 pm or as a replacement for it. Use for at least 7-10 days for the detoxifying effect.
For 2 people you will need:
Preparation
Wash and clean the carrots and salad and juice them together with the peeled oranges in a juicer. Remove excess foam on the surface and add 3 teaspoons of amla powder with turmeric. The powder can settle to the bottom, so it is good to mix the fresh drink well, ideally in a shaker.
Consume best within one day, store in the refrigerator.
Related Products