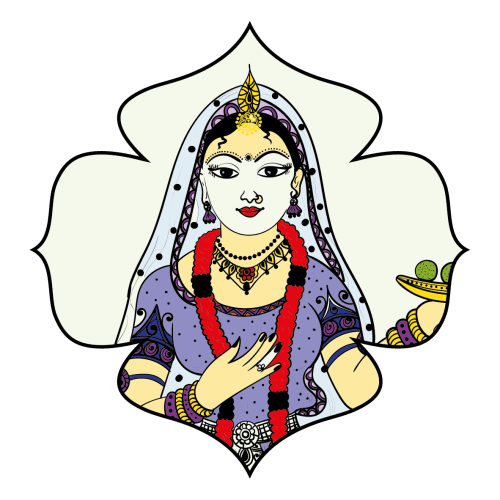 Rani Karmavati was a Rajput queen who served as regent during her son's minority, from 1527 to 1533. She was married to Prince Rana Sanga of Mewar.
She was the mother of Udai Singh whose son was the Indian national hero Maharana Pratap. After the death of her husband, she continued to defend the city of Chittorgarh with only a small contingent of soldiers. She refused to flee the besieged fortress and to protect her honour, along with other women, she threw herself into the sacrificial fire thus committing "Jauhar" (March 8, 1535), before she would fall into the hands of Sultan Bahadur Shah of Gujarat.
One day the Moghul emperor Humayun received a message from the Rajput queen Karmavati of Chittor. When the emperor opened the letter, he found a Hindu sacred "Rakhi" bracelet, which sisters traditionally give to their brothers during the Indian festival of Raksha Bandhan. During this ceremony, a sister ties the amulet on her brother's wrist to symbolically ask for a sibling's promise of protection in any danger.
The letter then read: "Emperor Humayun, this sacred bracelet is presented to you by your sister as her adopted brother. Your sister needs your help to protect Chittor from Sultan Bahadur Shah of Gujarat."
Humayun replied to the messenger, "Karmavati! Karmavati is a Rajput queen, a Hindu 'Rani' and I am a Muslim. She calls me her brother? If I am her brother, then it means that we will not remain enemies forever, but that all Hindus and Muslims can live as one family. This is the happiest day of my life."
Humayun then immediately rushed with his army to Chittor. Before he could reach the fortress, however, he received the terrible news that Karmavati had taken her own life. When her husband was killed in the battle, she wrote to Humayun asking for his help and since then she had been waiting for his arrival. But when she was to be captured by the Muslim Sultan Bahadur Shah, she threw herself into the sacrificial fire rather than surrender to him.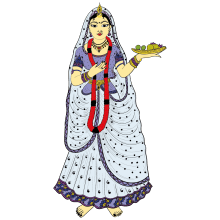 Humayun was shocked and horrified. He felt distressed that he had not come in time to save her. He exclaimed: "I will take revenge. Rani Karmavati called me her brother. The Hindu queen called the Moghul emperor her brother. This brother will not rest until he avenges the death of his sister who turned to him in confidence. That is my vow." He then actually defeated Bahadur Shah and enthroned her son Vikramaditya.
Indulge in the ancient oriental fragrance of KARMAVATI Incense sticks infused with pure essential oils of Myrrh, Sandalwood, Vetiver, Patchouli, Damask Rose, Clove and Lemon inspired by the Rajput Princess Karmavati and her deep sense of honor and respect. Discover Attar - Oriental Fragrances of Royal India!
Related Products