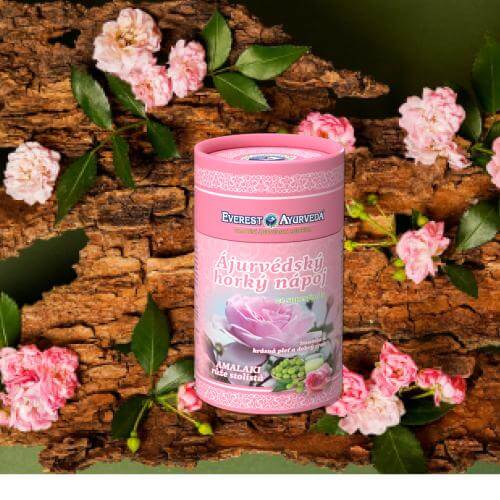 Let your skin blossom into beauty due to a unique combination of a charming rose and Amla heavenly fruit.
Beautiful and healthy skin is not only maintained by creams and oils that nourish it from the outside. It is necessary to take care of beautiful skin especially from the inside. In addition to a sufficient supply of pure water, a healthy lifestyle, diet and peace of mind, a purely natural supplement in the form of finely ground powdered Cabbage Rose with amla fruit will also help to keep your skin healthy and radiant. Prepare a delicious refreshing drink or a wonderful Ayurvedic smoothie and cheer up your skin!
Cabbage Rose (Rosa centifolia) contributes to the purity of the skin and revitalization of the skin and positively affects its overall blood circulation and young appearance
Amla (Emblica officinalis) strengthens the immune system and reduces the rate of fatigue and exhaustion, and the vitamin C supports the production of collagen for proper skin function and helps protect cells from oxidative stress
For the right effect, take twice a day:
as a refreshing Ayurvedic drink: stir 1 teaspoon of the ground mixture in lukewarm water and don't forget to add a teaspoon of honey, because amalaki is acidic due to its high content of vitamin C and this drink is completely natural without added sugar. A drop of lemon on top will pleasantly enliven the drink. Always stir the drink before drinking so that you drink the valuable amalaki and rose powder together with the water and do not leave it on the bottom of the glass. This is the right way, which is called "churna" in Ayurveda - the use of healthy herbs in the form of ground RAW powder in water.
or like a delicious Ayurvedic smoothie: prepare a fruit smoothie and add a teaspoon of a healthy mixture to it! Here is a recipe for the perfect combination of fruits that will delight you!
All you need is: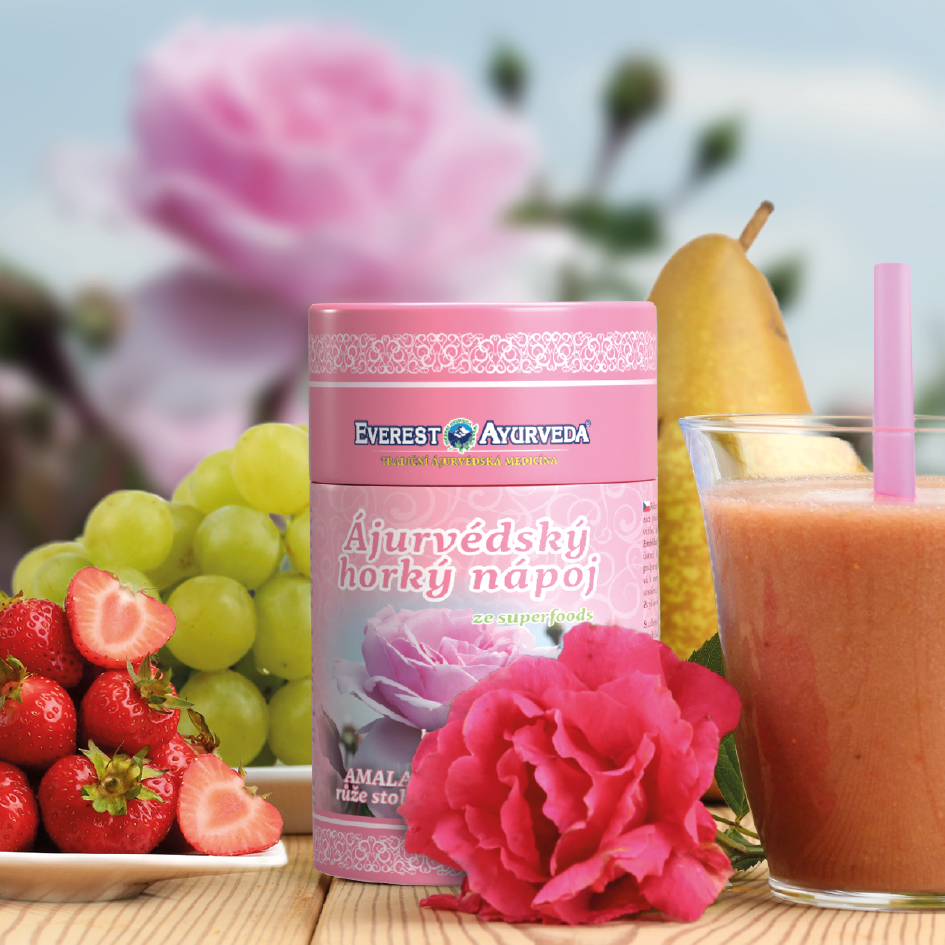 1 teaspoon ground mixture of Amla & Rose
1 pear
2 strawberries
10 balls of light grapes (seedless)
+ 150 ml of pure water
Preparation: wash the recommended fruit, cut into smaller pieces and put in a blender. Add 150 ml of pure water and one teaspoon of Ayurvedic mixture. Mix for 20-30 seconds. The prescription is for a single dose (250 ml). For a better taste, we recommend always preparing a smoothie from ripe fruit.
Related Products