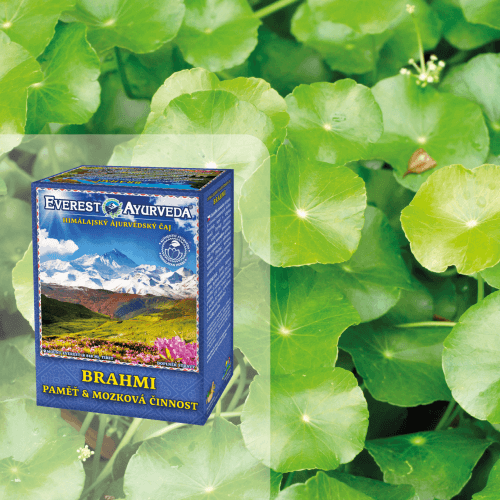 Weakening of the nervous tissue due to the decreased function of the respiratory system, which less oxygenates the blood flowing into the body tissues, can lead to insufficient blood circulation in the brain and thus cause forgetfulness and lack of concentration. The most proven Ayurvedic herb supporting the ability to concentrate is brahmi (Centella asiatica) known as the Asiatic pennywort.
This traditional herb has been used for many centuries by Indian yogis, helping them to calm down thoughts, sharpen the mind and introduce a wakefulness state of mind suitable for concentration and meditation. By stimulating the activity of brain functions, brahmi helps with concentration, improves memory and overall blood circulation in the brain. In the Brahmi herbal blend you will also find ashwagandha (Withania somnifera), which removes fatigue, strengthens the body's performance and brings deep regeneration of the nervous tissue, which naturally increases stress resistance and enhances the overall mental balance. Another herb is ginger (Zingiber officinale) relieving stomach problems, refreshing lemongrass (Cymbopogon citratus) and two types of cinnamon, Indian and Ceylon (Cinnamomum tamala and Cinnamomu zeylanicum), which promote blood circulation in brain tissue, strengthen the heart and protect the body from oxidative stress.
We recommend taking Brahmi tea in combination with the herbal elixir Majjaprash, which contains in addition to the herb brahmi and nutritionally valuable fruit amla or amalaki with a high proportion of antioxidants, also nard (Nardostachys jatamansi) that positively affects the psychic condition and brings relaxation of the nervous system, valerian (Valeriana officinalis) that soothes the agitated mind, grapevine (Vitis vinifera), which promotes good quality of blood, black pepper (Piper nigrum) beneficial for the restoration of nervous tissue and sandalwood (Santalum album) with antidepressant effects, which relieves mental and psychic tension.
Preparation of tea: one teaspoon of herbal mixture (about 2 g) let boil for 3–5 minutes or pour 250 ml of boiling water and leave to infuse for 10 minutes. The elixir you can just take on a teaspoon with a sip of warm water or Ayurvedic tea.
Recommended dosage: 2-3 cups a day along with a teaspoon of elixir. Do not take with food, but allow at least 1 hour gap before or after eating.
We recommend these herbal preparations to support brain activity, memory, concentration, learning and alertness.
We have selected a few testimonials for you:
Hello, I am currently taking your teas BRAHMI - Memory tea and Kalamegha - Liver tea and I am satisfied with them. The combination of herbs in your teas is also a pleasure for the soul. Thank you. - Zdenek Kloucek, Zatec
Greetings, I regularly buy teas from your offer - Kudzu, BRAHMI and I am very satisfied with them. - J. Packa
Related Products