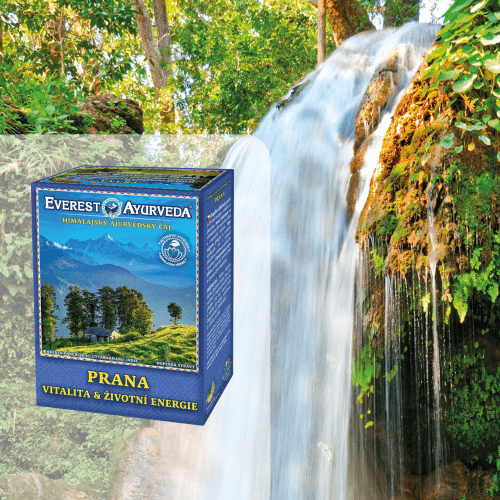 Respiratory problems such as cough, lungs heaviness, dyspnea and breathlessness even during very low physical activity, are among the common consequences of the disease. Headache and migraine as well.
In order to get rid of these unpleasant symptoms, the body needs a calm and patient approach together with the use of suitable herbal preparations. We bring you recommendations from the age old Ayurvedic treasury.
The Prana herbal mixture contains a combination of Ayurvedic herbs which, thanks to their synergistic effect, positive influences the respiratory system, support blood circulation and thus oxygen transfer in the body, relieve migraines and strengthen the overall vitality of the body. Ginger (Zingiber officinale) is a well-known remedy for sore throat, has a beneficial effect on digestion and strengthens vital energy. Elecampane (Inula helenium) also called horse-heal or elfdock calms the irritated throat area and the entire respiratory system. Black pepper (Piper nigrum) relieves the airways and has a very positive effect on the nervous system. Camphor (Cinnamomum camphora) stimulates the activity of the vascular system and blood circulation.
Use tea 2-3 times a day and we also highly recommend the supportive herbal elixir Pranaprash, which is a supportive remedy for weakened immunity. It is especially suitable when the body suffers from insufficient oxygenation of the blood and the flow of life energy.
Among other herbs, Pranaprash contains Sacred basil (Ocimum sanctum), which promotes expectoration and has a beneficial effect on the respiratory system, Long pepper (Piper longum), which affects healthy lungs, and Adhatoda (Adhatoda vasica), the most famous Ayurvedic herb for proper function of respiratory system. But you would also find two types of turmeric in it - Long turmeric or Indian saffron and so-called White turmeric (Curcuma longa and Curcuma zeodaria) invaluable not only for their anti-inflammatory effects. All the herbs contained are traditionally cooked together with the Ayurvedic fruit Amla or Amalaki (Emblica officinalis) into herbal jam, which thus prepared is used directly on a teaspoon with a sip of warm water or herbal tea to drink.
We recommend the Ayurvedic combination of Prana tea with Pranaprash for: cough, hoarseness, vocal cords, congestion, breathlessness, asthma, bronchitis, pneumonia, nervous excitement, migraine
Tea preparation: one teaspoon of the herbal mixture (approx. 2 g) boil for 3-5 minutes or pour 250 ml of boiling water over it and let it infuse for 10 minutes
Recommended dosage: 2-3 cups a day with a teaspoon of elixir. Take the first dose ideally in the morning on an empty stomach.
We have selected a few testimonials for you:
I can recommend Prana tea. With regular use three times a day plus activity. - Jarda
Hello, I tried tea for restoring life energy Prana. The effect is wonderful. My daughter when seeing my good mood started to drink it with juice. My husband also started to drink it and from a grouch he became a talking and smiling man :-)) - Jitka
Hello, I have often suffered from migraines. PRANA tea has helped me with these problems. I would like to deal with all ailments (varicose veins, menopause) in this way. I am very satisfied with herbal teas. - Věra
Hello, I have only used two Ayurvedic teas so far (Prana and Dalchini) and I am extremely satisfied with both. - R. Frank
Although I had a relatively mild form of Covid, I only got rid of the persistent headache after taking PRANA tea, which I tried after reading your blog article about post-covid problems. Already after the first cup of tea, the pains began to subside. I am very grateful for it and I can highly recommend it. - Jana from Prague
Related Products