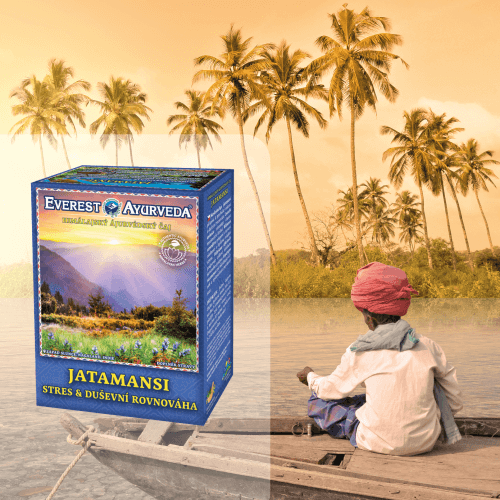 Manifestations of negative mood, hypersensitivity, sadness, anxiety and depression are not rare after the disease. Physical weakness often has an impact on the nervous system and mental condition, when the body has a harder time coping with stress and common life situations.
A good mental condition can be supported or restored by taking suitable and properly prepared herbal preparations along with a healthy diet, regular exercise in the fresh air and enogh rest. Ayurvedic herbs synergistically combined in Jatamansi tea have very targeted joint effect. The main ingredient is nard (nardostachys jatamansi), which beneficially influences psychic relaxation and strengthens mental balance. The herb brahmi (Centella asiatica) effectively promotes blood circulation in the brain tissue and supports cognitive functions. Ashwagandha (Withania somnifera) regenerates the nervous system and increases the resistance to stress. Valerian (Valeriana officinalis) soothes the agitated mind and brings calmness. Asparagus (Asparagus racemosus) is a powerful adaptogen that improves the psychic state and regulates the hormonal level. The herb kudzu (Pueraria lobata) positively affects healthy levels of serotonin and dopamine in the brain and overall strengthens the vitality of the body.
For sufficient regeneration of the nervous system, take Jatamansi tea with the Ayurvedic elixir Majjaprash. This nutritionally valuable herbal jam nourishes the nervous tissue and restores its proper functions and activity. In addition to the beneficial Ayurvedic fruit amla or amalaki (Emblica officinalis) and clarified butter (ghee), it contains 11 herbs that are highly valued by Ayurveda for their deep, but at the same time gentle and delicate effect on the human psyche. Among them, in addition to ashwagandha, valerian, nard and brahmi, there are also grapevine, lemongrass, sandalwood, black pepper, cumin, licorice and ginger.
The above-mentioned Ayurvedic preparations we recommend for psychic disorders, stress, depression, neurosis, phobia, manic-depressive psychosis, hysteria and epilepsy.
Tea and elixir preparation: let one teaspoon of the herbal mixture (approx. 2 g) boil for 3-5 minutes or pour 250 ml of boiling water and let it infuse for 10 minutes. The elixir you can just take on a teaspoon and with a sip of warm water or tea.
Recommended dosage: 2-3 cups a day along with a teaspoon of elixir. Do not take with meal, but allow at least 1 hour before or after eating.
We have selected a few testimonials for you:
Hello. I have a very good experience with JATAMANSI tea. Due to difficult life problems, I began to have insomnia and anxiety, which eventually turned into depression. At first I tried Ashwagandha tea for insomnia, but unfortunately I was already at the stage where my hands were shaking, I felt tension for 24 hours and had fluctuating moods, so Ashwagandha helped only a little, the fault was mine, since I chose not quite suitable tea for my health problems. I felt real relief only after trying Jatamansi. It has proven to me to combine Jatamansi and Ashwagandha or Ashwagandha and Rajani teas. Sincerely, Alex, Prague
Related Products